Citibank Identity Theft Solutions Advertisements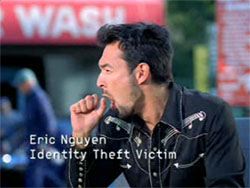 To promote its Citi Identity Theft Solutions service, introduced in October, 2003, the banking giant came up with a creative, humorous way to illustrate how identity theft can damage the financial lives of victims. The service is designed to help Citi's card holders protect themselves and take action when a card is lost or stolen.
The ads show the victims speaking with the voices of the identity thieves, who talk about how much fun they had with the victims' credit cards and bank accounts.
The thieves' voices are humorously out of place, such as a rough-sounding thug's voice coming out of the mouth of an older woman as she cleans her pool.
The ads are so good that I just had to post them here for everyone to see. Enjoy!
» Geek (0:30)
» Mud Flaps (0:30)
» Outfit (0:30)
» Saddlebags (0:30)
Recently, CitiBank has created four new ads to follow up after the success of the original four. Enjoy watching these as well!
» Babe Magnet (0:30)
» Ohh La La (0:30)
» Stirrup Pants (0:30)
» Underpants On (0:30)
Many, many, many thanks to Ryan Peck for these movies. Let me know what you think about the ads (and the rest of my site, while you're at it).