Only a handful of times have the actions of the Highest Court in the United States created such anticipation about heavy, contentious rulings within a few days of each other. This week was one such occasion, including a key ruling about the Affordable Care Act and capped with a rare Friday ruling on same-sex marriage.
Looking beyond the headlines, these rulings are intertwined with the heat of ongoing debates among Americans about weighty topics. The Supreme Court itself is inscribed with 'Equal Justice Under Law' across the transom, though that has been called into question time and time again. Whether a group of nine people can truly represent the opinions of 330 million-plus is an ongoing debate within itself!
However, today was, I believe, a true step forward in the court playing the role it should: Ensuring all Americans have equal treatment and the same rights and privileges as their neighbors. Even the partisan Constitutional theorists can align on that as a guiding principle.
I was struck most by the Supreme Court's incredibly salient grasp of its role while reading the final paragraph of Justice Anthony Kennedy's [incredibly well-written] opinion for the majority: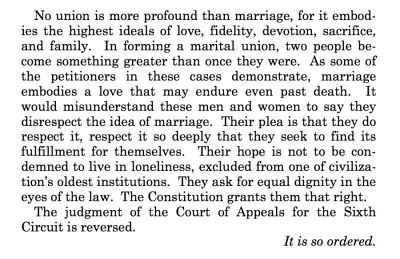 Regardless of your opinions on the topic of same-sex marriage, the majority eloquently stated that nobody should have the power to deny you the right of choice. I found Justice Kennedy's statement incredibly moving.
What's equally interesting is how, on a macro scale, the opinions about same-sex marriage have changed rapidly across the country. Even statistics guru Nate Silver is intrigued by how quickly public opinion on gay marriage has shifted. It's worth a read because this trend is likely to continue as the issues and catalysts that force those issues onto the national stage continue to evolve.